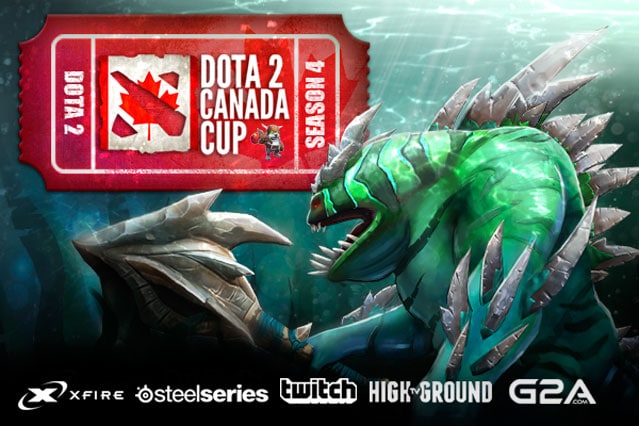 Dota 2 Canada is proud to announce the 4th season of our ever popular tournament! After last season's incredible success, which achieved a peak viewership of over 26,000, we knew there had to be another event as soon as possible.  We got together with our sponsors and partners to make this happen. XFire, SteelSeries, Twitch, G2A, and HighGroundTV are all contributing to make the 4th season of the Dota 2 BEAT Invitational™ the best yet.
Xfire aspires to be the Ultimate Tournament Platform.  Xfire is a free, web based tournament platform that provides a registration system, customizable brackets, and automated stats and score reporting for select titles.  Xfire technology can be embedded anywhere and enhance the experience for any community tournament.  Our goal is to make tournaments easier to manage and more fun!
G2A.COM is a digital marketplace offering  activation codes for games, time cards, software and any other digital goods. The site is known for partnership with such recognizable gaming brands and individuals as: PayPal, Klei Entertainment, Gameforge, Symantec, Nordic Games, Cipsoft, Grinding Gear Games, PewDiePie, KSI, SivHD, Alodia Gosiengfiao and Liz Katz. G2A.COM also supports many charity events, including the ongoing Save the Children campaign which supports the various projects of Save the Children organization (https://www.g2a.com/savethechildren). You can choose from the ever growing list of over 8,000 products. Visit: https://www.g2a.com now and check out the offers!
Broadcast all the games! There's a universe of gaming video waiting to be discovered on Twitch. Whether you're into retro favorites, strategic esports titles, first-person shooters, or massively multiplayer pasta cooking dating simulators, if you love playing it, you'll find it on Twitch.
From day one, SteelSeries has been focused on making high performance gaming gear used by the most demanding, top professional gamers worldwide and peripherals that provide superior quality and a competitive edge to gamers of all skill levels. We believe, as most gamers do, in winning, not trying!
HighgroundTV is a premier Dota 2 broadcasting studio supported by a small but thorough editorial staff dedicated to bringing high quality production to the professional scene.  Our primary casters include such luminaries as Greg "WhatIsHip" Laird, Travis "Maut" Bueno, and Dakota "KotLGuy" Cox, and remain the only casting group with consistent ingame statistical support provided by Brian "ThatPhageGuy" Peddie and Trent "MotPax" McKenzie.  With experience ranging from smaller professional tournaments like the BEAT Invitational™ ranging up to casting at The International, HighgroundTV has the experience and dedication to make any tournament a must-see.
The Dota 2 BEAT Invitational™ aims to provide one of the most outstanding platforms to help grow the North and South American Dota 2 community.  As part of that continued goal we have invited some of the best this community has to offer to battle over our $7000+ prize pool. Our confirmed invitees: FIRE, eHug, Not Today, compLexity Gaming, Leviathan, paiN Gaming, Union Gaming and Lacresha (4x weekly cup winner).
Prize Pool – $7000
1st Place- $4,250
2nd Place- $2,000
3rd Place – $750 
Tournament Dates
Open qualifiers will be running from January 24th to 25th.
If you'd like to sign up and participate please go to www.xfire.com/tournament/3130 where you can find all the pertinent information.
Main qualifiers begin afterwards on January 30th and conclude February 8th. The group stage is planned to start in full on February 10th – you can find the schedule and standings on our website, the play-offs are TBD.
 Casting Information
English: HighGroundTV – http://www.twitch.tv/dota2canadacup
Russian: Adekvat – http://www.twitch.tv/adekvat
Spanish: GamerstudioTV – http://www.twitch.tv/gamerstudiotv2 (channel might change)
Portuguese: NomadTV – http://www.twitch.tv/nomadtv  (when available)
French: Effovex – http://www.twitch.tv/dota2qc (when available)
 Dota TV – Ticket coming soon!
Article Written by Emeldavi
Follow her on Twitter!