North American Dota 2 fans, we're back with an update! The Dota 2 BEAT Invitational returns for its 9th season on April 28th – 30th and you can check out the full schedule here. The action begins 4PM EDT / 1 PM PDT over at twitch.tv/beatesports
We've also raised an additional $3060 Canadian dollars for 3 charities. If you'd like to also donate and contribute, you can do so at Canada Helps. Any proceeds will go to the three outlined charities of choice. The winning team will also get to select a charity of their choice and contribute $2,500.
Tune in
Tune in over at twitch.tv/beatesports where we'll be broadcasting live from twitch. Bringing you the action is none other than Moonduck TV. Zyori & Trent will bring you all the action for the 3 days.
Participating in the event will be:
Business Associates
CR4ZY
Quincy Crew
4zoomers (replacing c9)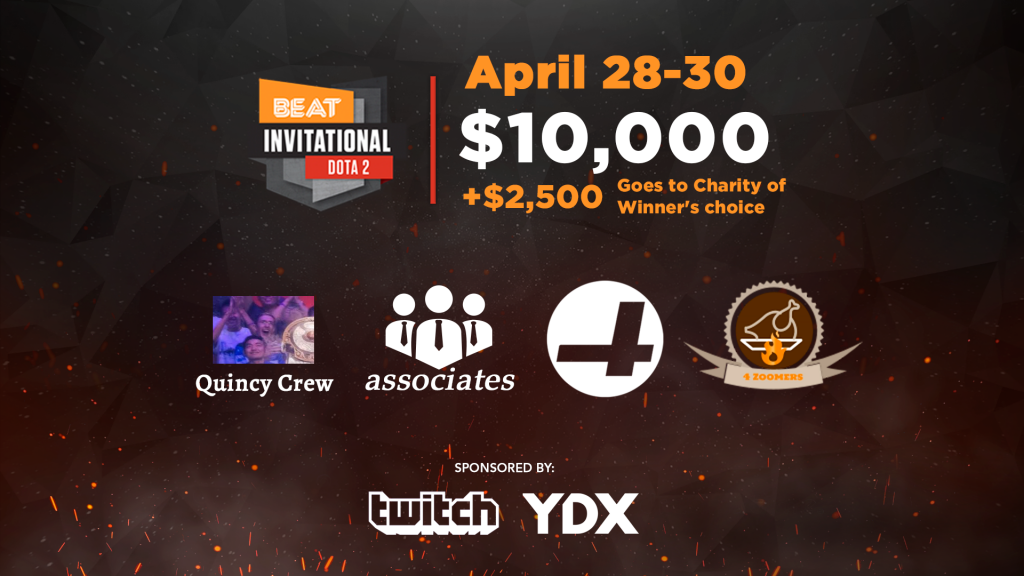 Be sure to follow our twitter : https://twitter.com/BEATesports where we'll post live coverage of the event throughout.
Sponsors
We'd also like to thank our sponsors for the event Twitch & YDX.
YDX Innovation Corp. (TSXV- YDX :: www.ydxinnovation.com) is a technology company that develops products and services and is an expert in immersive technologies like Augmented and Virtual Reality, eSports events and Interactive Exhibitions.
Twitch is where millions of people come together live every day to chat, interact, and make their own entertainment together.
We hope to see you soon