BEAT Invitational™ Season 1 by Soylent Kicks off June 27th!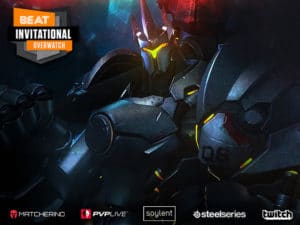 We are happy to announce that the BEAT Invitational™ Season 1 by Soylent kicks off June 27th.  Teams will battle it out for $7500 USD in our inaugural tournament and the action is brought to you by none other than ZP TV
The tournament will be GSL group stages (bo3) on June 27th and 28th into a double elimination bracket.  The currently established Stopwatch, no 2cp and 1 hero limit rule will be in effect.
Teams confirmed:
Cloud9
Gale Force eSports
1shot
Northern Gaming Red
Team EnVyUS
Team Liquid
Team Rogue
Splyce
Group A
Team EnVyUs
Northern Gaming Red
1shot
Splyce
Group B
Cloud 9
Team Liquid
Gale Force eSports
Team Rogue
Streams
English
https://www.twitch.tv/beatinvitational
Not sure when your favorite team plays? Be sure to check out the schedule over at Gosugamers or beat.gl for all the latest information.
Luminosity Gaming withdrew due to scheduling conflict.