Welcome to Season 6 of the Dota 2 BEAT Invitational™! This new season promises to be the largest yet. With a massive open qualifier hosted in part with FACEIT. Featuring a $20,000+ with prize pool sharing through our ticket and cosmetic item sales.  Make sure to catch all the action on our new home over at Moonduck TV!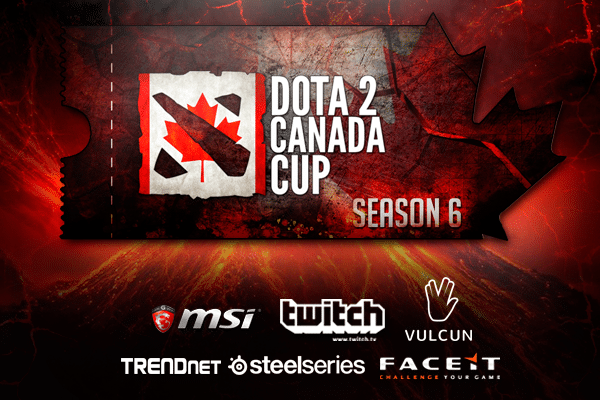 Our confirmed invitees for Season 6:
Archon
Boreal
Cloud9
compLexity Gaming
Digital Chaos
Elite Wolves
Leviathan
ROOT
Unknown
VoidBoys
+ 4 Invites still TBD in coming weeks.
Open Qualifier Information
Our open qualifiers ran through FACEIT begin on November 28th with the rounds of 256 through 16, and continue the next day on November 29th with the rounds of 8 onwards. Round of 8 forward will be played as best of 3 matches. The top 2 teams advance directly into the group stage. For more information or to register head on over to FACEIT or follow our twitter @Dota2Canada.
Sponsor information
Our sponsors for Season 6 are SteelSeries, Twitch, FACEIT, Vulcun, G2A, MSI, TrendNET, Uken games and Esport Gaming and we'd like to thank them for our support! Keep up to date on all the latest news by checking out dota2.ca , and our twitter account @Dota2Canada.
Stay Frosty!
Channels
Check out all the action on the following channels!
English – Moonduck TV (Our new home!) – www.twitch.tv/moonducktv
Spanish – GamerStudio TV – http://www.twitch.tv/gamerstudiotv
Russian – Dota2RuHub – http://www.twitch.tv/dota2ruhub
Portuguese – Impetus TV – http://www.twitch.tv/impetustv
Vietnamese – Pota Studio's
French – http://www.twitch.tv/DotaPanache
Prize Pool Distribution
1st 60%
2nd 30%
3rd 10%
Usted y su equipo necesitan crear una cuenta gratis en el sitio de FACEIT. Después de crear la cuenta, es necesario crear un equipo o un "party" utilizando la plataforma (clicando, por ejemplo, en el bóton "Register Premade Team"). Hecho eso, va a la página de BEAT Invitational™ (bit.ly/CanadaCup1) y seleccionen la opcion para unirse con tu "Premade Team".